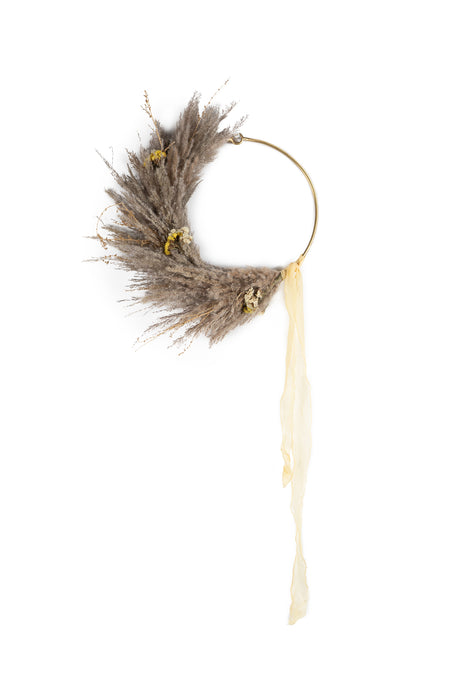 RoseBuck's Brass Pampas Wreath
Our Pampas Wreaths are beautiful, long-lasting and the perfect piece for adorning your walls or doors all year round. Choose from 4 variants - Black, Brass, Copper, and Full.
Includes: Sold as either an 8-inch wreath or a 16-inch wreath.
Material Used: Pure Brass Ring, Chiffon Ribbon, Pampas Grass, and Seasonal Dry Flowers.
Dimensions: The 8" pampas wreath ring is 8 inches in diameter. The 16" pampas wreath ring is 16 inches in diameter.
Product Care: Upon receipt, hang the wreath in a sunlit area. After a few days, the Pampas Grass will open up and the Dry Flowers will settle down. Please always be gentle in handling the wreath. Apply hairspray to minimise shedding and to keep the Pampas Grass and Dry Flowers in place.
Gentle Reminder:
Pampas grass is a natural product. Variation in colour, shape, and size is expected and should not be considered a flaw. The colour of the ribbon may differ - ribbons are chosen to best suit the wreath's ring and dry flowers.
Pampas Wreath sales are final. They cannot be returned.
Original price
Rs. 1,550.00
-
Original price
Rs. 2,550.00
Rs. 1,550.00
-
Rs. 2,550.00
Current price
Rs. 1,550.00