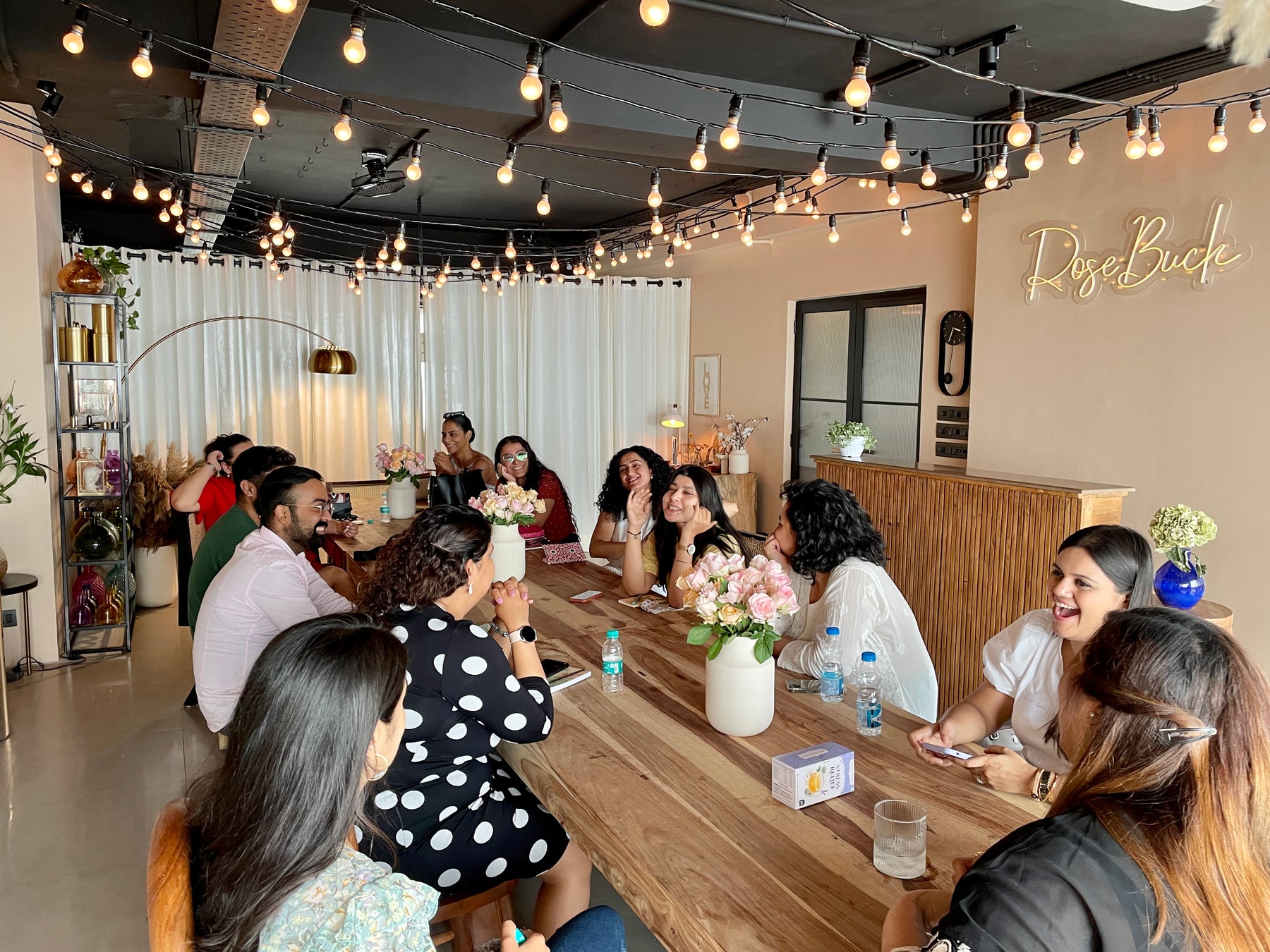 Saturday Sessions at RoseBuck
Last Saturday, RoseBuck successfully hosted its first informal meet-up at the studio with a group of 12 small business owners. Owning your own business is tough and with the pandemic resulting in a boom in many new ventures and a constantly evolving social media landscape that challenges even the most seasoned of content creators, it's easy to get overwhelmed by the ins-and-outs you need to stay on top of to succeed. As a small business, we're familiar with these issues and it's also something we continue to face too.
In such a fast-changing environment, we felt it was more important than ever to establish a local network of creatives with like minds as there's no dearth of small businesses here but there's no established local network through which we can connect. That's why we decided to host this Saturday Session where people can meet up in a safe space we created, and speak openly about the every day struggles of owning a business, exchange knowledge and experiences, and potentially create connections for future mutually beneficial collaborations.
People who joined the session had a wide range of experiences and were a mix of seasoned vets who've owned their small business for over 10 years, to those who just got their baby businesses off the ground, to those who were still deciding on their brand name. They were from various industries too, such as food and beverage, fashion and beauty, architecture, and decor. Everyone had the chance to open up about their challenges—understanding social media and making reels was at the top of their lists—and we hope they walked away feeling comforted knowing they weren't the only ones having difficulties and even have more drive to keep pushing onward despite the tough times.
A few key takeaways we wanted to highlight from the event include:
Whether you have the maximum or minimum years of experience under your belt, you're not alone in your struggles.
Owning or having your own space does not constitute a business. Businesses are no longer limited to that so don't (in turn) limit yourself!
Don't be afraid to be wrong. Business is not about getting it right on your first try!
Be confident in what you do—if you can't sell it, how can you teach someone else to do it for you?
Know your audience—make sure you know exactly who you're selling to and that they know and understand what you're selling them.
Followers on social media doesn't automatically translate to sales so try not to get caught up in the numbers game!
If you missed out on the first Saturday Session, don't worry because we're thinking of making this a regular occurrence! One of our tenets as a small local business is to keep uplifting other local brands and we hope that these informal sessions will be the start of creating a strong network where we can all support each other.