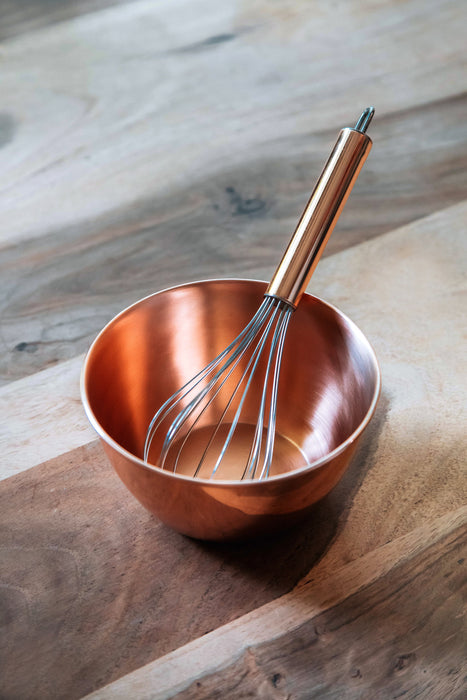 Copper Whisks
Our Whisks bring a nice touch of fun to your kitchen. Pair them up with our Cooling Racks, Measuring Cups, and Mixing Bowls to really liven up your bakeware collection! Available in Black, Brass, and Copper.
Includes:
Sold as either one small whisk or one large whisk or as a set. A set contains one small whisk and one large whisk.
Material Used: Stainless steel with food grade Shiny Copper plating on the handles.
Dimensions: Small whisk: Handle—4.1 inches in length; Balloon—5.5 inches in length.
Large whisk: Handle—4.1 inches in length; Balloon—7.2 inches in length.
Product Care: Hand wash with warm soapy water using a soft sponge. Avoid citrus-based detergents. Air or pat dry. Do not use an abrasive material on the product as it will diminish the finish. 
Gentle Reminder:
Our whisks are handmade. Slight unevenness in the finish is an expected part of the manufacturing process and should not be considered a flaw.
Original price
Rs. 475.00
-
Original price
Rs. 1,100.00
Rs. 475.00
-
Rs. 1,100.00